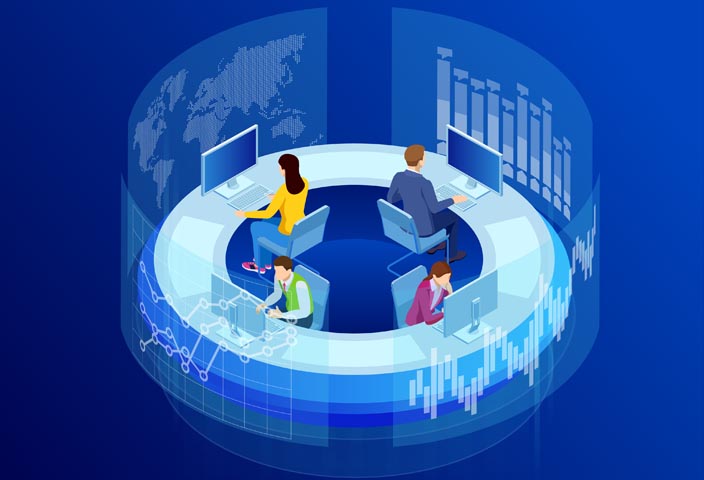 ALLOW OUR CARRIER CLASS OPERATIONS CENTER TO KEEP AN EYE ON YOUR SYSTEMS SO YOU CAN SLEEP PEACEFULLY.
We've all been awakened in the middle of the night to find that there is a major outage that affecting business reporting, 24x7 operations, or financial payment transmissions. The time it takes to recover can range from minutes to days, depending on the severity of the outage. In these instances, the quicker someone can react and resolve the issue, the smaller the impact to the business.
Several organizations weigh the pros and cons of staffing an operations team that works 24x7. There is significant expense involved with establishing that type of team, and the question invariably centers around the value proposition. That's where the Horizon River Operations Center shines.
We proudly offer a 24x7x365 Operations Center that serves multiple telecommunications carrier networks. Our Operations Center is based in Northbrook, IL, with a fully redundant site located in Madison, WI. Our team can handle Network, Server, Storage, Application Operations, as well as a full service End User Help Desk solution. We work closely with our clients to document process, procedures and requirements during the on-boarding phase, and then assume responsibility for monitoring and reporting for your critical infrastructure. We can use your existing monitoring tools, or provide you access to our custom suite of tools and dashboards to see your technology infrastructure in a real-time view.
We want you to rest easy knowing that we will monitor and resolve issues while you sleep, and usually at a substantial cost savings compared to setting up an internal Operations Center. We can also speak with you about supplementing your existing team during off hours or migrating from an in-house to Managed Service model.
Contact us today to find out how we can help you take control of your technology even when you are sound asleep!